Der Hauptbahnhof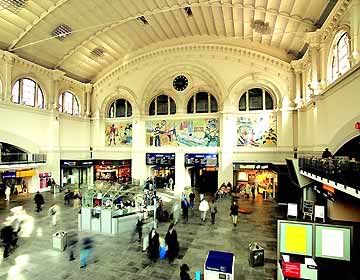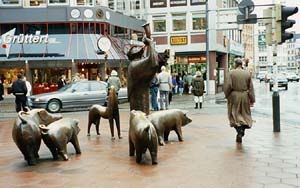 When I first got here, I always passed through the Hauptbahnhof (main train station) to go to almost anywhere. Hochschule für Kunst, Universität Bremen, home (Goldbergplatz in Bremen Nord). So for a few days, it was the hub by which I traveled Bremen.
As I get more familiar with the tram, bus and train routs, I learned that I didn't need to pass the Hauptbahnhof all the time. There were in fact shorter and more direct routs to traverse Bremen. But I find myself going out of my way to pass the Hauptbahnhof whenever I have time. My day is not complete it seems if I don't see the Hauptbahnhoff.
The Bremen Hauptbahnhof seems to be my zen center at the moment. There is something about it that I find very reassurring. It could be becasue you can go to almost any place in Bremen from the Hauptbahnhof. Or its because of all the shops, stores, markets and eating places that are in it as well as around it. I also feel so comforable seeing so many different kinds of people rushing through this central station. Although there but the slightest interaction with these people, the variety of age, race, appearance, disposition, etc makes me feel less like a stranger in this foreign land.
I think it's also because I have made some sort of anchor at the Hauptbahnhof. It is the place which I know so well already compared to the rest of Bremen which is almost entirely unexplored for me. It is the cetnral bastion of familiarity in a metropolis of uncertainty.
I continue to explore, hopefully, finding roots und setting up anchor in many more places throughout this interesting city.
For a panoramic view of the Bremen Hauptbahnhof, click on the title or try this link below:
http://www.stadtpanoramen.de/bremen/hauptbahnhof.html