I Made My First Caldereta!
Today I realized I have been in Germany for 1 whole month! Yup. Its been
a month since I arrived
. I survived! Now only 23 more months to go!
Hmmm. Now that I think about it, it seems like such a short time to be here. I think the 2 years will be over sooner than I think. Although, I haven't been here long enough to feel terribly homesick or to say that I'll be really sad when I leave. I really don't know what will happen, but right now, things are really good.
School is ok. Projects are going along fine. Finances are good. People are nice. I'm healthy. etc etc. I realize of course it will not always be this good. No matter how hard one tries, there are things we can't contol. I just do my best and hope for the best.
Well today I cooked my first Caldereta. I hardly cooked meat dishes when I was in Manila, so this is actually my first Caldereta. I always talk about food when I'm with my friends, so it was inevitable that Oliver (from HfK) said I should prepare a Philippine dish. My first idea was to prepare my favorite dish: sinigang na tiyan ng bangus. Unfortunately, it was met with much resistance. First, they don't eat fish belly. They throw it out immediatly when preparing the fish. So they're a bit squemish about eating this "dirty" thing. Next, Oliver, who has lived in Bankok for a few months, said he hated Tom Yang Soup, which is the Thai relative of our sinigang. It "smells like pee" accoridng to him.
So I decided to prepare a safer dish: adobo or something. I went into an Asian shop and rejoiced when I found several
Mama Sita's
instant mixes! There was Mama Sita's Sinigang Mix, Caldereta, Chopseuy, etc. I bought a couple of packs, and today I made my first Caldereta ( Or is it Kaldereta? I really don't know). It was really good too.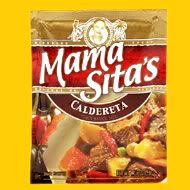 Thank you Mama Sita!
I really enjoyed being able to cook again. There's something "zen" about peeling potatoes, and boiling meat. It's actually very calming. And if the food turns out good, its very rewaring too.
If anybody reading knows any good and easy to prepare Philippine or German dishes, send them over please! Hahaha. Thanks.