Der Weihnachtsmarkt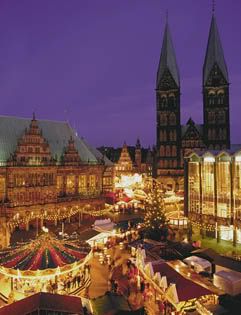 The Weihnachtsmarkt
School is almost over and Christmas is almost upon us. Last night, I went out with my friends to the famous Bremen
Weihnachtsmarkt
(Christmas Market). It really was a heart warming sight. They have converted the entire
Marktplatz
into a Christmas Village. Every direction I looked, I'd could see dancing lights, colorful booths, Christmas-themed puppet shows on department store windows, food kiosks selling the most savory crépes, mouth watering
Schaschlik
, and other seriously tempting food! (I'm getting hungry writing about it) The
Marktplatz
was full of people, shopping, drinking, eating,
wearing Santa Claus hats with dancing lights
, and generally just enjoying themselves.
We all had the
Glühwein
, a popular German Christmas drink which is basically boiled red wine with cinnamon and other spices. It was really good! Then I had to try the
Feuerzangebowle
, another popular Christmas drink.
There we were in the
Weihnachtsmarkt
, in the cold, warming up with our beverages, talking, laughing and just being silly. I really wish I had a digital camera with me (I can afford one soon I hope!) to capture the occasion. So you have to settle for net rip-offs. Hehehe.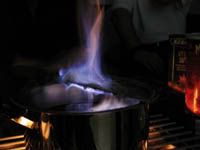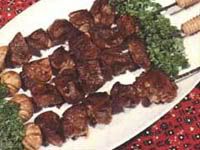 Feuerzangebowle
(Fire Tong Punch) - Rum is poured over a suger cone and ignited. The melted suger-rum drips into a ceramic cup with red wine. This was a stronger drink but also very good.
Schaschlik
- Basically something like barbequed lamb. My Russian collegue told met the German Schaschlik is a pale version of the original Russian
Shashlik
which is much, MUCH larger.